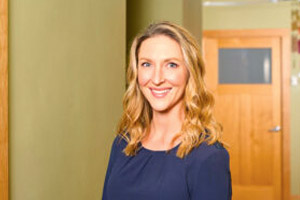 Dr. Megan Mulligan, DDS
Dr. Megan Mulligan, DDS joined Grand Avenue Dental in 2019 after an adventurous two years of living abroad in Munich, Germany. She graduated in 2006 from the University of Wisconsin- Madison with a Bachelor of Science in Biology and obtained her Doctor of Dental Surgery degree in 2010 from the University of Minnesota School of Dentistry where she served as class president. "My favorite part of being a dentist is developing relationships with my patients, while combining art and science to create and maintain beautiful smiles. I take great care in treating my patients with a gentle manner and enjoy teaching them about their oral health, so that they can be active participants in their care." Dr. Mulligan and her family previously lived in Seattle, WA where she was actively involved with organized dentistry. She served on Executive Council, Membership Committee, and New Dentist Committee for the Seattle King County Dental Society. She is a current member of the St. Paul District Dental Society, Minnesota Dental Association, and American Dental Association. Dr. Mulligan believes in giving back to the community and is an active volunteer with Hope Clinic in St. Paul. She has previously donated her dental services to the Seattle King County Mission of Mercy, Give Kids a Smile and Common Hope, a non-profit based in Guatemala. Dr. Mulligan is a resident of St. Paul, along with her husband Mike, two young children, Finn and Kellen, and goldendoodle, Maya. Outside of the office you will find her spending time with family, practicing yoga, running along the Mississippi, or reading a good book.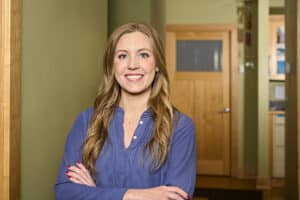 Dr. Madeline Stead, DDS
Dr. Madeline Stead joined Grand Avenue Dental in May 2023. She completed her undergraduate studies and earned her Doctor of Dental Surgery degree from the University of Iowa in 2019. She then went on to work at a community health center in Cedar Rapids, Iowa for three years. She is happy to be back in the Twin Cities living and working very close to where she grew up. Dr. Stead loves that dentistry blends her creative and artistic abilities with her interest in the sciences, health, and wellbeing. She strives to provide each of her patients with the best individualized care possible through compassion and open communication. Being a general dentist feeds Dr. Stead's passion because she enjoys seeing patients of all ages and loves the daily variety of patients and dental health opportunities. "Taking the time to build relationships with my patients is very important to me because I want them to feel comfortable in my care." In her free time, Dr. Stead enjoys traveling, trying new restaurants, staying active outdoors, and spending time with her family, friends, and big Bernedoodle (Bernese Mountain Dog / Poodle), Henry.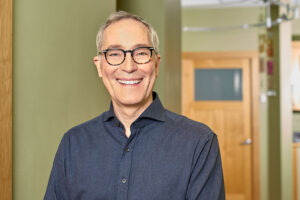 Dr. Paul Amble, DDS
In 1985 I opened my dental practice in St. Paul's Lowertown. Four years later, we bought our building on Grand Avenue where the practice continues to this day. The practice grew and flourished. We added on to the building twice, and my hair, or what's left of it, turned grey. Four years ago, I asked Dr. Megan Mulligan to join me as an associate. She and I shared very similar practice philosophies, and I knew her to be a skilled clinician. The association was so successful, I began to lay plans to reduce my schedule until I would eventually retire. Two years ago, Dr. Mulligan purchased the practice. We did this quietly to transition with as little disruption to patient care as possible. This was important to me as I had heard so often from new patients that they transferred to me because their old practice was abruptly sold, and they felt abandoned or handed off. Early in 2023 I had a fall on the ice and this sped up my retirement, if only by a handful of months. People often ask me, "Why dentistry?", or "What do you like most about dentistry?". The answer is that I have always derived great satisfaction from taking care of people, and my profession afforded me the opportunity to do just that. Some of you have, amazingly, been with me since those early days, and some of you I have seen only a few times. No matter how long you have been a patient at Grand Avenue Dental, you have all been part of a very meaningful professional life for me. I appreciate you, I am grateful for you, and I thank you.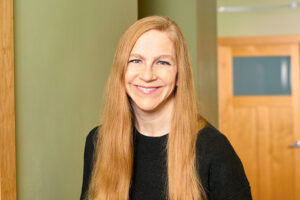 Janice
Registered Dental Hygienist (RDH)
Janice has been an RDH at our office since 2003. She graduated from the University of Wisconsin - Eau Claire in 1994 with a degree in biology and still roots for the Packers. She attended the University of Minnesota where she graduated with a bachelor's degree in dental hygiene in 1997. She lives in Woodbury with her husband and three children. She enjoys running, walking with her family, and attending plays, concerts, and sporting events in which her kids participate.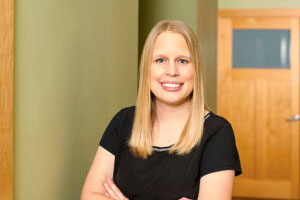 Kristen
Registered Dental Hygienist (RDH)
Kristen joined Grand Avenue Dental in February 2020. She graduated from Herzing University with an AAS in Dental Hygiene in 2009 and worked with Dr. Mulligan in a large group practice early in her dental career. Kristen is detail oriented and enjoys building trusting relationships with her patients. When she is not working Kristen enjoys golfing, home projects, dog training, playing fantasy football, and watching the Vikings during football season. She currently resides in the North Metro with her two dogs. She has a Great Pyrenees (George) and a German Shepherd (Mayhem). While Mayhem does live up to his name in many ways, Kristen trained him in tracking and nose work (finding scent) as well, a nice skill to have if you tend to misplace important, smelly, items. In addition, she volunteers at Minneapolis Animal Care & Control as a dog walker, treadmill trainer, and TikTok content creator.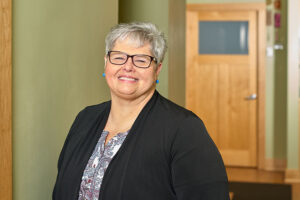 Robin
Financial Coordinator and Licensed Dental Assistant (LDA)
Robin is our Financial Coordinator and also has her LDA and CDA Dental Assistant certifications. She has been with Grand Avenue Dental since 1995. After receiving her dental assistant's license and certification she worked for Dr. Strand and Wild in Roseville for 11 years. When Dr. Strand retired his daughter suggested meeting Dr. Amble and in 1995 she began her employment with him. Robin has had many hats in our office but recently has focused mainly on insurance and payments. When asked what her favorite thing about dentistry is she will enthusiastically respond that it is the relationships she maintains with the patients and other team members here. "They are the greatest gift any practice can have." When not working she enjoys spending time with her family (especially her nieces and nephew) and her cat, Ginger. "I enjoy watching almost any sporting event (except golf), reading a real page turner (romance novels), and watching a great sitcom or romantic comedy. My favorite vacation spot is DISNEY WORLD of course!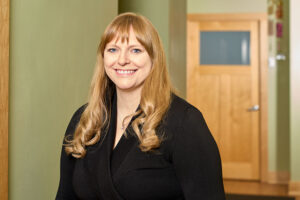 Bethany
Licensed Dental Assistant (LDA)
Bethany came to us in May of 2022 and has added her calmness to the office, as well as her diligence and commitment to patient care. She loves to stay busy and is active with her two kids and husband and stays close to her mother, who helps with child care. She is a coffee connoisseur and has upgraded the rest of the office along those lines. Her long-term love of coffee began with her working at Starbucks as a barista, a part-time job she continues to this day because she loves it. As a team, Bethany and Mai Kou create an atmosphere of calm and can-do and we're glad to have them.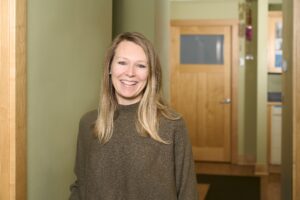 Tracy
Licensed Dental Assistant (LDA)​
Tracy graduated from University of Wisconsin-Stout with a BS in Retail Merchandising in 2008 and from Herzing University with a AS in Dental Assisting degree in 2009. She started working with Dr. Amble in July 2010 and learned the ropes of the clinic quickly. She has enjoyed meeting the patients who have been coming here over the years and is known by many. Since having her kids she modified her schedule a number of times, but we refused to let go of her. She continues to be here on Fridays, as well as other fill-in days when we need a hand.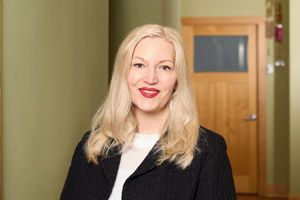 Jackie
Patient scheduling coordinator
Jackie has been in the dental field for over 25 years and was a dental assistant in Seattle before moving to Minneapolis 11 years ago. She is currently our front desk scheduling and patient coordinator. Jackie enjoys spending time with her four boys and husband. When she is not at work, you can find her at a local museum or out on a nature walk with her camera.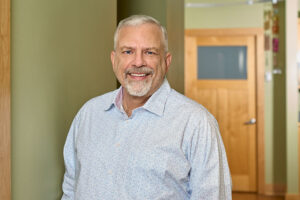 Bob
Bob is our office manager and has worked here since 2008 (with a short retirement stint in 2022, which did not take). Bob worked in the corporate world as an engineer for 28 years and when he wanted a change was given this wonderful opportunity to move into the small business world. He loves all aspects of small business and enjoys the new relationships he has developed with staff, patients, suppliers, the Grand Avenue Business Association, and networking in general. He is an avid reader, dabbles in writing, is a bit of a technology geek, and loves dogs.